Lake Erie Walleye & Perch Rules & Regulations
A fishing license is required to fish on Lake Erie. Ohio fishing licenses are valid beginning March 1st and expiring on the last day of February of the following year.
A fishing license is not required of persons who are:
Less than 16 years of age
Giving assistance to an angler who is physically disabled, provided the 2 persons together are using only 1 line
Fishing in a private pond
Fishing on land and water which they or their parents own
Fishing on land and water where they or their parents are tenants on which they reside and from which they derive the majority of their income from agricultural production on that land ( except state owned lakes )
Members of the U.S. Armed Forces on annual leave or furlough
Ohio Fishing Licenses Fees
Ohio Resident:
1-Day $11 Annual $19 (senior 66+ $10)
Non-Resident:
1-Day $11 3-Day $19 Annual $40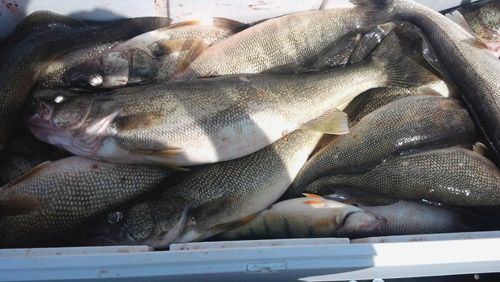 Walleye Limits on Lake Erie
Daily Bag Limit:
March 1st - April 30th 4 fish per day per angler
May 1st - Last day in February 6 fish per day per angler
State Record:
33" 16.19 lbs caught on Nov. 23, 1979
Fish Ohio Qualification:
28"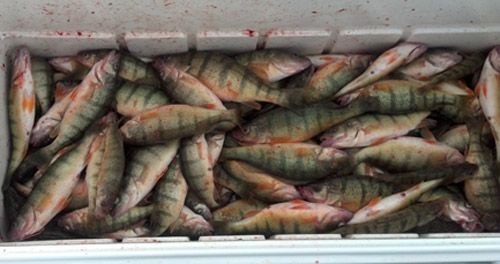 Perch Limits on Lake Erie
Daily Bag Limit:
30 fish per day per angler No size limit although 10" to 13" perch are common
Ohio State Record:
15 3/4" 2 lbs 14oz caught on April 18, 2016
Fish Ohio Qualification:
13"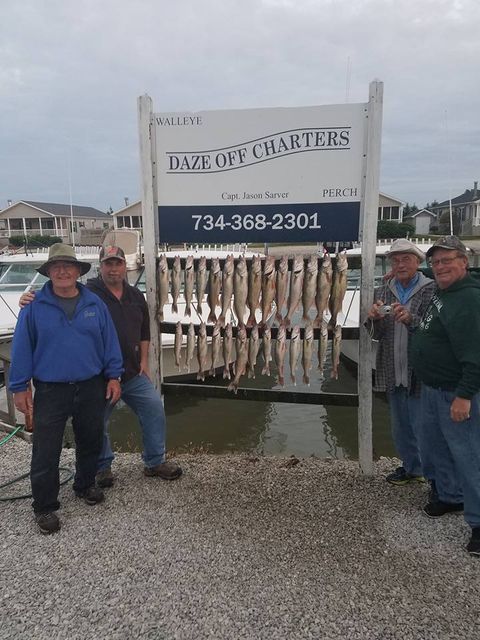 2017 FISHING REPORTS
Walleye Fishing
Once again, we had a very successful 2017 fishing season. We fought some bad weather the first part of the season but once the weather stabilized fishing was good. We had to handle a lot of walleye to keep a nice cooler of fish at the end of the day. It was common to catch 50-80, sometimes 100 under sized(12"-14.5") fish per day. The future is bright as Lake Erie continues to produce excellent hatches of walleye year in and year out. The 2015 walleye hatch was exceptional with a hatch rate that was almost 3X the average and produced most of the under sized walleye we caught all summer. These walleyes will be 18"-22" in 2018.
Couple these fish with the many trophy fish that remain from previous hatches and we are set up to have fantastic walleye fishing for years to come
Yellow Perch Fishing
Overall, July, August, September, and October perch fishing was good. The size of the fish was the best we have seen in a long time, consistently catching 9-13 inch perch. Most days perch were averaging about 2.3-2.5 fish per pound. The hatch rates have been consistent over the past few years so I have no reason to believe perch fishing will change in the next year or two.
Salmon Fishing, Olcott NY, Lake Ontario
As some of you have heard we are moving one of the boats to Lake Ontario to charter for king salmon and steelhead. Like Lake Erie this is a world class salmon and trout fishery. If you are looking for drag screaming action this is the place to be. We will be in Olcott, NY July and August during the prime salmon and steelhead fishing season. Walleye and perch operations will continue in Oak Harbor, OH during this time as well.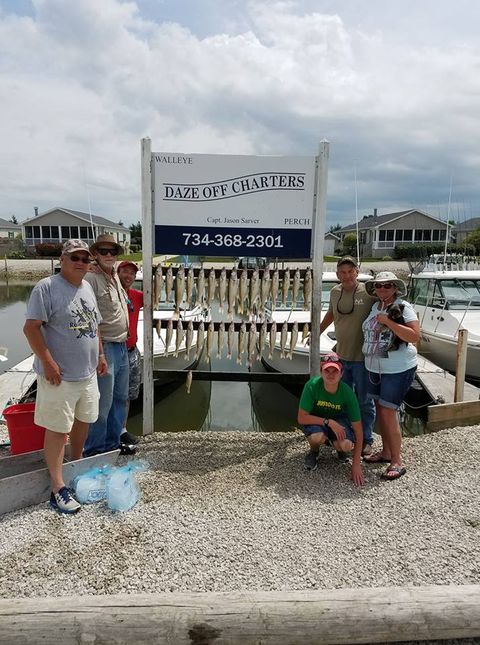 2018 FORECAST
2014 produced one of the best walleye hatches ever recorded, followed in 2015 with another excellent hatch of walleye Lake Erie is set for well above average walleye fishing for the next 5-7 years. Three year old will be the majority of the catch in 2018 however there are still plenty of trophy fish from previous hatches.
"With these hatch index results, we are expecting the walleye fishing in Lake Erie in the next three to five years to be exceptional," said James Zehringer, director of the ODNR. "This is outstanding news for Ohio anglers and out-of-state anglers who enjoy fishing on Lake Erie, the Walleye Capital of the World."